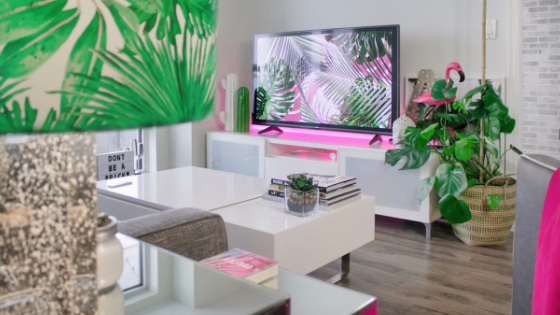 Spring is finally here! This is the perfect time of year to decorate your home with beautiful flowers and pastel colors. Below we've listed three of our favorite DIY decorations to add a touch of spring to your home.
1. Spring Wine Bottles and Flowers
Collect six wine bottles and remove the paper labels. Paint each bottle with acrylic paint in colors that will match your home. Paint the first bottle with an "S," the second bottle with a "P," the third bottle with an "R" and so on until each bottle has one letter of the word "spring."
Place one artificial (or real) tulip in each wine bottle, then place the bottles in order so they spell the word "spring" when viewed together. This is a creative and cute decoration to place on your dining room table or coffee table.
2. Rain Boot Door Decoration
Everybody needs rain boots in the spring! To create your own rain boot door decoration, find an attractive, gently-used rain boot with loops on each side (normally used to pull the boot up). Fill the boot until it's overflowing with artificial flowers like tulips and daffodils. Finally, tie a ribbon to one of the loops on the side. Use the ribbon to attach the boot to a hanger on your door.
3. Jelly Bean Candle Holder
Jelly beans are the quintessential spring candy. To make your own jelly bean candle holder, pour an assortment of jelly beans into a large glass vase or candle holder. If possible, select pastel-colored jelly beans, or beans that match the room where the vase will be placed. Next, place an electric candle into the center of the vase, nestled into the pile of jelly beans. Turn the candle on at night to create a beautiful, glowing decoration.
Ready for a Change This Spring? Contact Us!
At the Montrose, we're enjoying the season by hanging fun decorations and spending time with friends. At this time of year, the Montrose is a wonderful place to spend time! Check out our Chicago, IL apartments today. We'd love to have you join our community!