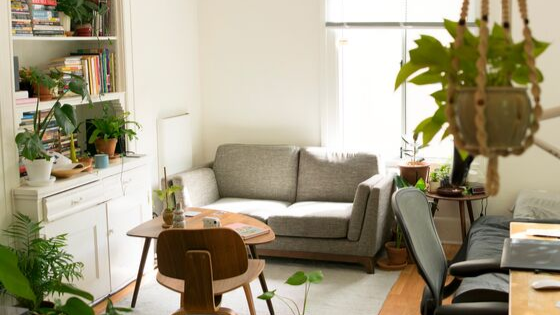 After searching through Chicago apartments and finding your perfect home, you probably can't wait to put your own decorating touches on it to make it your own. Decorating your new apartment shouldn't have to cost a fortune! Luckily, your local dollar store probably has many inexpensive items you can turn into unique and useful décor with some basic craft supplies. Nobody will be able to guess that these easy DIY projects were inspired by dollar store finds. Try some of the following projects for a one-of-a-kind look that won't break the bank.
Mirrored Boxes
It's hard to get more glam than mirrored décor nowadays. Most dollar stores sell mirrored squares or framed mirrors. Pick up five mirrors for each box along with some E-6000 glue. If framed, remove the mirrors from the frames. Glue the mirrors together in the shape of a cube and use as a beautiful vase, accent piece or bathroom organizers.
Shower Caddy Plant Holder
Whether you're a plant-lover or just like the look of greenery, a dollar store shower caddy can be transformed quickly into a wall statement piece with a fresh coat of paint and some real or faux plants in brightly colored planters. Choose a bright color for your paint, such as teal or red, to really make it pop. A plus is that if you use it to display live plants, you can easily remove the entire caddy from the wall and water your foliage in the shower!
Hula-Hoop Chandelier
Want an inexpensive chandelier without having to replace your light fixture? Brighten up your room with a fun chandelier made from a silver-painted hula-hoop wrapped with dangling LED fairy string lights.
Indoor Care-Free Faux Terrarium
Don't have a green thumb, or have poor lighting in your apartment? You can bring in some green by filling a large globe-shaped glass bowl with white pebbles and inserting some faux succulent picks for an instant no-care cactus garden.
Spa Aesthetic
For a true spa look, buy some matching dollar store pump bottles. Fill them with your shampoo, conditioner, lotion, and other beauty items. Dress them up by adding a large initial sticker to the front of each to identify what they contain.
The Montrose Apartments in Chicago offer all the amenities you are looking for. Call or come by today to see your new apartment and get started on the new DIY décor projects that will make you feel at home.